Craigieburn Wastewater Treatment Plant
Reliant Solutions helping future-proof Melbourne's wastewater treatment requirements
Reliant Solutions successfully tendered for Yarra Valley Water's $3.4millon contract to supply and construct two large, 50m (16 million litre) Glass Fused to Steel tanks featuring self-spanning geodesic dome roofs, with custom-built machine-way entrances, as part of wastewater infrastructure upgrades in Melbourne's Northern Suburbs.
Reliant Solutions never shies away from a challenge – so when Melbourne came calling, we answered with a custom-made tank that ticks all the boxes.
Our vast wastewater treatment design and build experience means we can guide clients through every stage of their project, reducing risk for projects.
Melbourne's Northern Growth Area (NGA) is expected to accommodate an additional 128,000 properties by 2040. Wastewater generated in the NGA will flow into the site of the existing Craigieburn Wastewater Treatment Plant (STP). 
This presented Yarra Valley Water with a problem as current and projected future wastewater flows would exceed the volume that can be treated and re-used locally. The existing sewerage network between Craigieburn and the Northern Interceptor Sewer does not have capacity to accept peak sewer flows from the NGA.
The tanks form part of the Craigieburn Wastewater Transfer Hub required to transfer flows downstream and store flows temporarily when there is insufficient capacity in the network. This is expected to occur during and/or immediately following wet weather events.
The initial domes were constructed to the side of the new Glass Fused to Steel tanks and craned into position using a 350-tonne crane. 
Geodesic Dome Roofs are an innovative, modular, self-supporting structure that perfectly complement any containment structure – in many cases eliminating supporting construction costs. 
The low weight of the aluminium dome roof is a decisive cost advantage designed to fit on to new and existing tanks, often without the need to be reinforced.
Odour control is crucial, and our geodesic domes provide maximum durability, with minimal maintenance costs.
As an added challenge, our client requested Reliant Solutions design and install custom man and machine-way doors.
The doors needed to be large enough (3.5m wide by 3.5m high) for a small machine to drive into the tank at a later date. The design work had to be very comprehensive as we were effectively creating a weak spot in the tank by creating a large hole in the side. Significant reinforcement and strengthening had to be built into the door entrance.  
Benefits of Aluminium Geodesic Dome Roofs
• Corrosion Resistance: Aluminium is inherently corrosion resistant compared to other materials. It will last the lifetime of the structure and will not need to be painted or repainted for protection from the elements.
• Low Lifetime Maintenance Cost: With no need to maintain a protective finish to prevent corrosion, there are little-to-no maintenance costs associated with an aluminium dome.
• Clear-Span Capability: Aluminium's lightweight characteristics allow for larger clear-span cover capability than structures utilising steel, concrete and other materials.
• Fast & Low-Cost Construction: Creative design and lightweight components provide for installation in 1/3 the time it takes to install other cover systems. Less time, labour and equipment needs combine for a lower total installation cost.
• Design Flexibility: Aluminium's excellent strength-to-weight ratios and creative component designs create covers and structures that cannot be achieved with other materials.
8.490m walls, +7.08m dome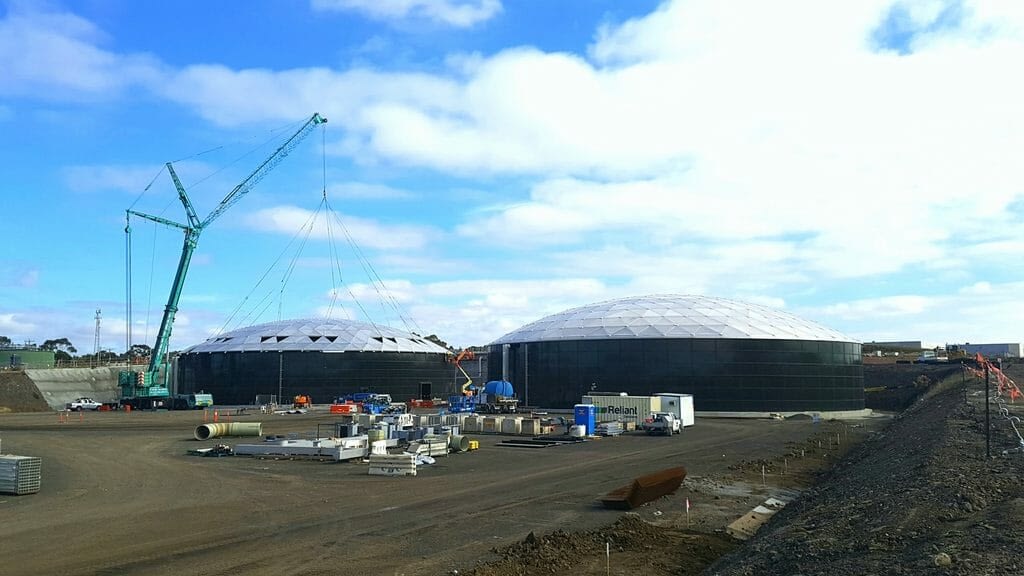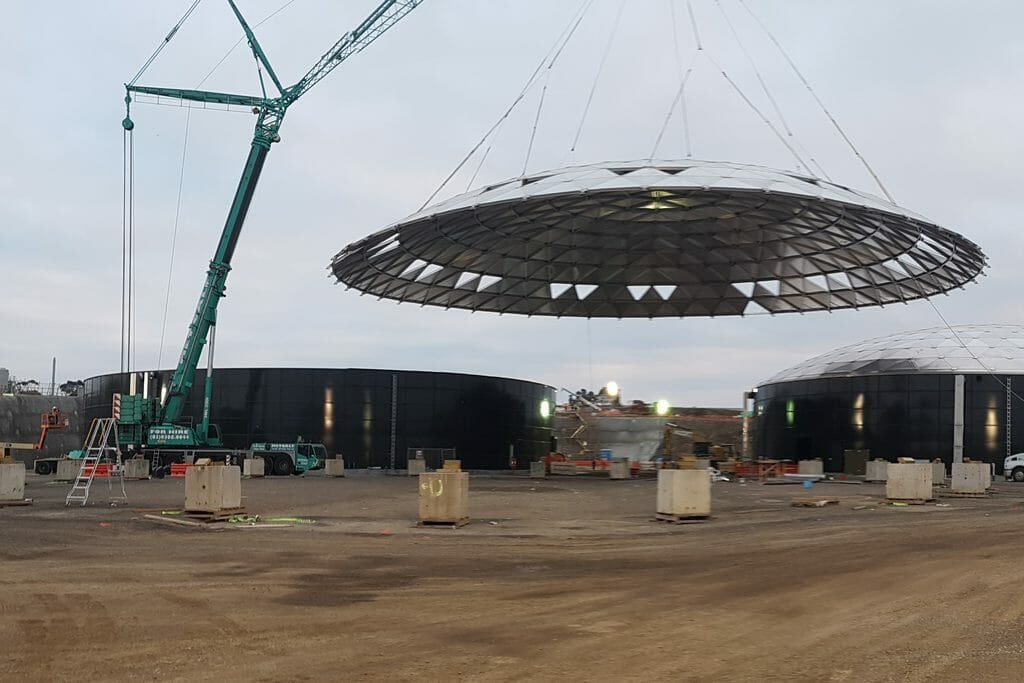 Benefits of Reliant Solutions Approach:
One Company for the complete project
Control over timelines and budgets
Turnkey services from approval drawings to tank testing
Glass Fused to Steel tanks have the lowest total life cycle cost compared to concrete & welded
Specific tank designs, options and accessories to meet customer needs