With our innovative forward-thinking, approach – we will consistently deliver high-quality projects for our clients. Our intent is to move ahead, focusing on your expectations, better project delivery, the value and longevity of your project. We strive to be the best in the industry.
Our people are always looking ahead, seeking for new ways, new technology to do things, systems and methodologies to make our projects better for you.
Our tank wall panels are independently certified and meet or exceeds Internal Quality Standards.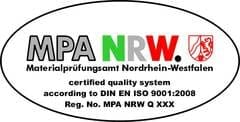 Fully independent audting of project testing since 1986.
Cerification for project quality and suitability for potable water storage.